Paritech Data Director 3: Moving to another computer
You have just bought a new computer and what to move your Data Director 3 to the new computer.
Option 1: Install Data Director 3
The quickest way is to install Data Director 3 on the new computer.  This will enable you to also download the full history on the new computer.  Please note that any Smart Charts will need to be recreated as they are embedded with the Metastock data folders.

  Download Data Director 3
You will have settings for what is downloaded in Data Director 3 that you may need on the new computer.  Make a note of what is ticked in the Download column.
Option 2:  Copy files from the source computer
a. Copy files
Metastock stores the Smart Charts in the same folder as the Metastock data.  Copying the whole data folder will also copy the Smart Charts as well.
The default folder for Data Director 3 Metastock data is c:\shares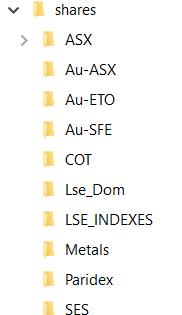 b. Install Data Director 3

  Download Data Director 3
Note: This method is usually successful in retaining your Smart Charts.  However there may be issues if the directory and folder names have changed as Smart Charts stored the original drive and folder name.  It may be necessary to recreate the Smart Charts.
I want to move my Metastock programme to the new computer
There may be issues with licence verification for the new computer as well as needing to copying personal files such as layouts.  Please contact Metastock Support direct for assistance.